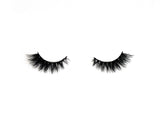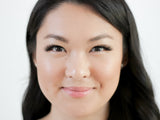 Fluttery, Flirty, and Fun easily describes our Pretty Bold Lashes!
They are so flirty and lush that we love wearing them out primarily at night.  We HIGHLY recommend them for brides because of how romantic and fluffy they lashes look in person and how natural they look in photos.
We can also wear these during the day too when we're feeling spicy! 
Expect Voluptuous Volume with our 3D Style
Wear comfortably all day with our Cotton Lash band
Perfect lash lengths to accentuate Small / Petite / or Asian eyes
Exceptionally, lightweight 100% Siberian Mink Lashes
Score 20-30 wears with proper care and love
You get: 
1 Pair of Lashes
1 Box that doubles as storage 
*** Eyelash Glue not included
WE STAND BEHIND THE PRODUCTS WE CREATE. If you are not happy with the quality of your order or believe your product has a manufacturing defect or shipping damage or just not in love, please contact us at Hello@shoplovepretty.com and send back the products so we can make things right.  
All returns must be processed within 30 days of receiving the order. 
All returns will include a flat fee of $4 shipping and handling that will be deducted from your refund amount. 
We will send you a pre-paid mail label for your convenience. Please ship the products back in their original and respective packaging. 
Customer Reviews
01/13/2020
Julia G.
United States
Lash Veteran
ive Been wearing lashes for almost a decade now (omg that makes me feel sooo old haha) so I would definitely consider myself a lash veteran. These were easy to use, didn't require any trimming and very comfortable (I even sometimes sleep in them). I also really like their glue, I normally use the DUO glue but I've found I've had to reapply less often when using the Love Pretty glue - The only little down side is that their glue seems to dry out faster than my DUO but I'm thinking that's probably cuz it's a much thicker formula which is probably why it's stickier, so not really an issue cuz I just purchased an extra tube to have on hand. Overall, very happy with these lashes and their hand written letters with each package are such a personal touch, Will definitely be purchasing from them again!
Thank you so much for sharing with us your thoughts! we are so happy to hear that you loved our lashes as much as we do! <3
07/10/2019
Monica N.
United States
Perfect for weddings
I'm at a time in my life when many of my friends are getting married. I am either attending weddings or I'm in them and I love wearing falsies. This was the first time I wore Love Pretty lashes and they were a dream—very comfortable, looked great in photos, and easy to apply. Usually falsies look huge on me and they don't sit right with my small eye shape. But these looked great and they seemed like a natural extension to my eyelashes (unlike other falsies that obviously look fake). I am excited to wear these throughout the rest of the wedding season!
Thank you so much for sharing your thoughts with us! We are so excited that you love your lashes!!!