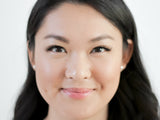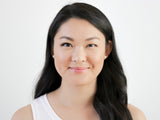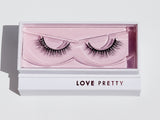 "Wow, your eyelashes are so long and beautiful!" - said, Everyone.
That's what you'll be hearing when wearing your Pretty Subtle style lashes.
Create the perfect 'your lash but better' look with our light 3D style lash that adds light volume and length to your natural lashes. 
This is our favorite lash to wear for every occasion like staff meetings, brunching with girlfriends or easy date nights.
***Because our lashes are 3D styles, the lash band is slightly thicker when compared to single layer lashes.  
Expect Voluptuous Volume with our 3D Style
Wear comfortably all day with our Cotton Lash band
Perfect lash lengths to accentuate Small / Petite / or Asian eyes
Exceptionally, lightweight 100% Siberian Mink Lashes
Score 20-30 wears with proper care and love
You get: 
1 Pair of Lashes
1 Box that doubles as storage 
*** Eyelash Glue not included
WE STAND BEHIND THE PRODUCTS WE CREATE. If you are not happy with the quality of your order or believe your product has a manufacturing defect or shipping damage or just not in love, please contact us at Hello@shoplovepretty.com and send back the products so we can make things right.  
All returns must be processed within 30 days of receiving the order. 
All returns will include a flat fee of $4 shipping and handling that will be deducted from your refund amount. 
We will send you a pre-paid mail label for your convenience. Please ship the products back in their original and respective packaging. 
Customer Reviews
12/26/2019
duri k.
United States
lashes were just...ok
i was so excited and anxiously awaited the arrival of my lashes. they came in a pretty envelope with a personalized card! very nice touch! the lashes were a bit disappointing at first look. they were messy out of the box. tried unsuccessfully brushing them with a lash brush to try to straighten out the lashes. i have worn the lashes three times since receiving them. box said 25-30 uses, but i doubt they will last that long. i am used to wearing falsies and care for them well. the band quality and the lashes themselves are not worth the value paid.
Hi Duri! Thank you for reaching out to us. We apologize that you had a less than amazing experience with our lashes. We stand behind the quality of our lashes and will reach out to you to see how we can remedy this situation! Please be On the lookout for our email. <3
12/17/2019
Gwen
United States
So Natural!!
So the box is very sturdy and held the product well together. I'm sure that my lashes would survive 25-30 uses if I contained them in this cute box. However taking the off the eyelash from the plastic stand was a little harder but I did it. I didn't want to mess up the lashes but I kinda shaped it back to its original shape. The lashes though are so natural looking and so amazing! Really makes my eyes pop! Love it!!
Thank you so much for sharing with us your thoughts and photos!!! Let us know if you consider this a 5 star product. Thank you again for making our day by letting us know how much you've enjoyed our product. <3